From October 9th to October 11th, 2019 China International Mining Conference is hold in Tianjin Meijiang Convention and Exhibition Center. The theme of "High Quality Development, For the Future of Global Mining Industry" attracted more than 50 countries and regions around the world. A total of more than 10,000 people attended the exhibition. As a professional manufacturer of mining machinery and equipment, China Coal Group was invited to participate in the exhibition. Zhang Zhenguo and Yu Wei, deputy general managers of the Group, Yu Lei, director of the Group Intelligent Machinery Factory, and Zhang Xing, manager of cross-border e-commerce company, attended the delegation.
Hosted by China Mining Association, China International Mining Conference is known as the world's top mining industry. It is an important platform for the international mining industry to grasp the industry dynamics and promote exchanges and cooperation. It has been successfully held for 20 sessions. As the annual important mining event of the world, the scale of China International Mining Conference has been continuously expanded and its international influence has been continuously enhanced.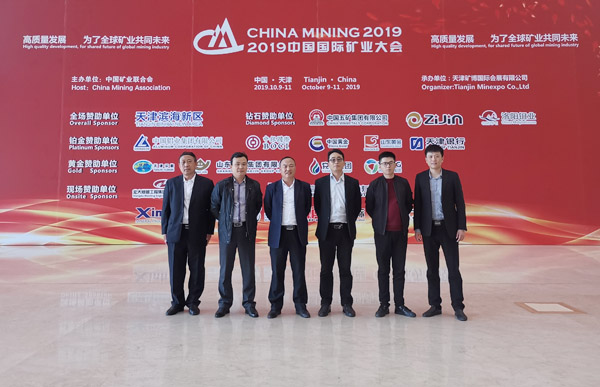 At the meeting, the leaders of our group listened to a number of mining summit forums to gain an in-depth understanding of the latest mining policy trends, industry development status, mining and capital markets, and domestic and foreign investment opportunities. During the exhibition, the group leaders also promoted the group's business by in-depth communication and on-site consultation with experts, scholars and leaders of large mining enterprises, and promoted the cooperation opportunities between the Group and a number of large mining enterprises. The popularity of coal brands in the industry.
As a United Nations global procurement supplier and a member of the United Nations Compact Group, China Coal Group has vigorously expanded its overseas market and actively developed cross-border e-commerce. It has registered the "China Coal" trademark in 37 countries and regions around the world and has obtained 28 EU member states. The use rights of China Coal's trademarks have effectively opened up the international market. At present, more than 10,000 kinds of products produced and sold by China Coal Group are sold in 153 countries and regions around the world, with 480,000 customers worldwide, which has started the China Coal brand in the world! Here, we sincerely welcome domestic and foreign merchants to visit the China Coal Group to visit and negotiate